Canine and Small Animal Rehabilitation Referral Clinic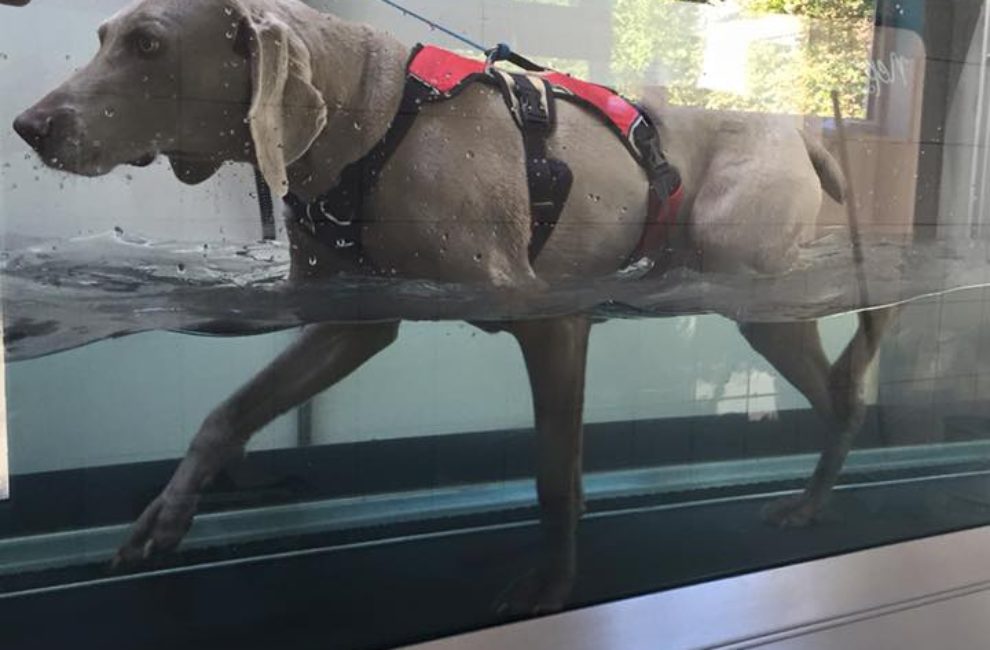 Aquatic Treadmill
Our aquatic treadmill is a Tudor Neptune Mk3 Hydrotherapy Treadmill with an extended chamber and automatic incline. 
It has a walk through design and large glass sides to facilitate full viewing areas. This enables the hydrotherapist to assess joint range of motion, stance time and stride length throughout the therapy session.
The extended chamber and powerful motor will easily accommodate even the largest of dog breeds. Foot rails either side allow the hydrotherapist to accompany the dog in the unit, this also provides the hydrotherapist with the capacity to guide and support the dog with gait re-education whenever necessary. The water level is easily adjusted, allowing the hydrotherapist to target flexion and extension on the joint of interest. The treadmill is equipped with a variable speed control panel, enabling us to achieve the correct gait pattern for the individual patient and an inbuilt electric controlled incline system (up to 6 degrees) which helps target load to the hind limbs if required.
Walking in water is a closed chain exercise; this method of walking without the added stress of further trauma is the ideal way of promoting gait re-education after surgery or injury.
The Neptune Mk3 is also beneficial for those dogs with heart or respiratory problems that find swimming in the hydro pool too exhausting and for dogs that are water phobic who simply prefer to have all four paws on the ground.
Hydro Pool
Our Pool is a custom built 3m x 5m x 1.2m deep, specially designed canine hydrotherapy pool.
It has a wide inbuilt internal non-slip ramp and platform to give even the largest dogs a secure space to rest upon.
It is constantly heated  to 32 degrees as warm water helps muscles relax and eases discomfort in joints, tendons and muscles.
The pool is accessed by a non-slip dog ramp.
All dogs are swum in a safety harness. 
Chemical levels and balancing agents are checked using the Palintest Pooltest 6 photometer up to 3 times a day. Detailed records of the water quality are kept to maintain the correct balance.
Bromine is used to kill any bacteria that may be brought into the pool or treadmill.
There is a shower in the pool room and treadmill area so that your dog can be washed down before and after their treatment. 
K-Laser Treatment
K-Laser therapy does not treat conditions, it stimulates the body's inherent healing mechanisms via a process called photobiomodulation. Through a combination of different wavelengths, power and frequency of laser light K-LASER is able to achieve improved healing times, pain reduction, increased circulation and decreased swelling. Laser Therapy has been utilised in human and animal medicine for many decades, however recent technical advances in laser miniaturisation has allowed laser therapy to be used for a wider range of patients.
Class IV Laser therapy can help treat a wide range of conditions effectively and without pain:
Joint Pain and Osteoarthritis
Tendonitis
Edema and Congestion
Chronic pain / Lameness
Fractures / Sprains / Strains
Trauma, Puncture Wounds
Dermatitis
Neck and Back Pain
Hip Dysplasia
Burns, Infected & Chronic Wounds
Rehabilitation
Recovery from surgery
Price List
Initial Hydrotherapy Consultation £65
Hydrotherapy Session £35
Fun and Fitness Hydrotherapy (Referral and Initial Consultation still required) £30
K-Laser Loading Dose (6 Treatments over 3 weeks) £120
K-Laser Single Treatment £25